Pose by Pose Yoga® 500 Hour Teacher Training
Don't just get a certificate, get an education…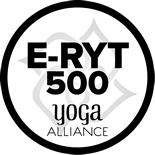 Frequently Asked Questions:
How is the 500 hour program different than the 200 hour program?
Pose by Pose Yoga® 500 Hour Teacher Training Program expands on the introductory topics taught in the 200 Hour Yoga Training Program. You will be exposed to a variety of yoga philosophy, more detailed anatomy, and also have the opportunity to teach the large group from time to time.
*You must have graduated from our 200 hour program or have a valid certificate from another YA approved 200 hour program in order to enroll in the 500 hour program.
How long will the program take?
This training offers you 300 contact hours with Yoga Alliance approved faculty. The structure of the program is set up for you to take seventeen (16) hour weekend workshops, and seven (4) hour master classes in your area of interest.
Weekend trainings are the first Saturday and Sunday of the month. Master classes are offered bi-monthly. Attending additional weekday and monthly trainings may result in an early graduation.
What is the structure of the weekend like?
A normal weekend consists of an introduction to the weekend's topic, led asana and pranayama practices, detailed instructions on special practices (meditation, kriyas, chanting, yoga nidra), anatomy, interactive philosophy discussions, and practice teaching to large groups.
What are the hours?
We meet the 1st weekend of every month. Weekend workshops are at:
Pose by Pose Yoga®
17761 Hunting Bow Circle; Lutz, FL
•Saturday 12:30-8:15 pm and Sunday 12:30-8:15 pm*
How much does the program cost?
The total cost of the program is $3800. We ask for a deposit of $400 to reserve your spot which is then applied to your total cost. You will be asked to pay a monthly payment of $176 at least 3 days prior to the weekend workshop.
What if I need to miss a workshop?
Pose by Pose Yoga® Teacher Training is run year-round. You will have twenty (20) months to complete your seventeen (17) month program. Master classes are offered bi-monthly and can be used as make-up hours.
What will I leave the program with?
As a graduate of the Pose by Pose Yoga® 500 Hour Teacher Training Program, you will have the credentials to register your 500 hour certificate with Yoga Alliance. You will also have a deeper understanding on how to present yoga philosophy, anatomy, and asana to your own students.
How can I get more information?
Feel free to contact Jennifer at…
Via email:  info@PoseByPoseYoga.com or call at (813)501-4987
*Dates and hours are subject to change as needed to accommodate holidays and special events. All dates can be found on our website under Events and Workshops.